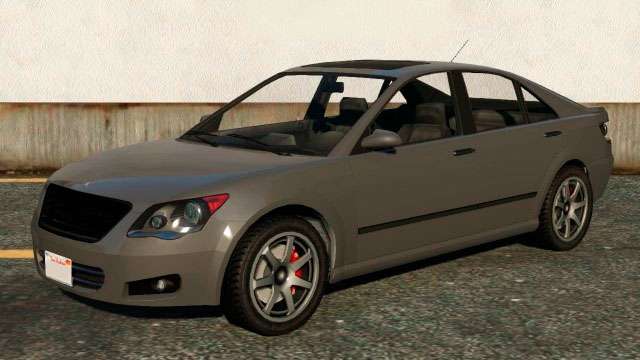 Asterope is a for-passenger sedan, which's manufacturer is an in-game automobile company Karin, which parodies Japanese automobile manufacturer Toyota.
Karin Asterope made it's debute in Grand Theft Auto V, and Asterope didn't appear in any other game of the series, nor did any of the Karin's products. Karin Asterope has a straight-six 3.5 litres engine, and it's weight is approximately one a half ton. This sedan can rise it's speed up to 233 kilometres per hour in perfect conditions, however it is true only on paper. Asterope accelerates to 152 kilometres per hour for 15.4 seconds, which is mediocre for sedans, and it's brakes are adequate for it's speed potential.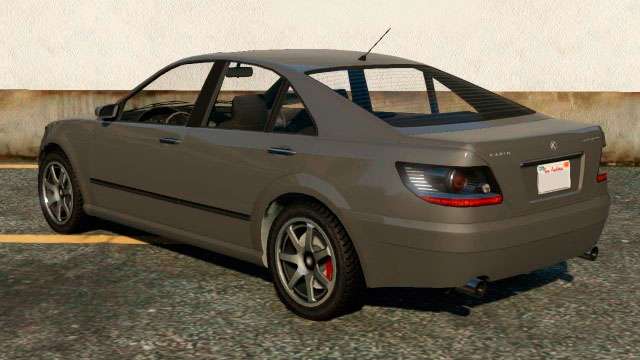 You can't say anything special about it's handling, soft suspension may lead to excessively wide turns. Durability of the car is far from the perfection, but is also far from the worst among sedans - Asterope is capable of taking two or free direct engine hits. Karin Asterope is very popular in the eastern part of Vinewood and at the East part of Los Santos. You can buy this automobile for $26000. To be straight-forward, Asterope is just another car for "peaceful" life and professional criminals are very unlikely to be interested in this model, as there are many more fitting and cheaper models out there.
Developers of GTA 5 were inspired by shapes of such Japanese cars like XV40 Toyota Aurion (front), XV40 Toyota Camry (rear and sides), Nissan Altima produced in 2007-2012 and also Lexus IS (XE20), when modelling Asterope.
GTA 5 Karin Asterope characteristics
| | |
| --- | --- |
| Speed | 145 km/h |
| Mass | 1500 kg |
| Capacity | 4 passangers |
| Engine | gasoline |
| Drive | rear |
| Brake force distribution | 42.5/57.5 |
| Damage in the collision | 70% |
| Damage during the deformation of the body | 70% |
| Damaging small arms | 100% |
| Damaging the engine | 150% |
| The purchase price in GTA Online | 26000 |
| The price of legal sale | 15600 |
| The illegal sale price | $2600 |