GTA San Andreas is the fifth game in the series Grand Theft Auto, made in the genre of action. Back in 2004 no one could not imagine that everyone will be able to install GTA San Andreas on the phone.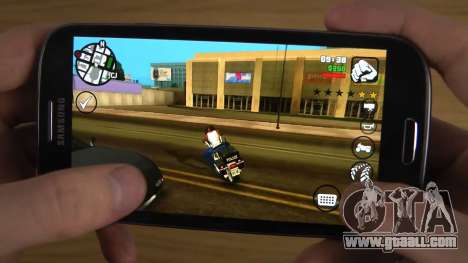 To adapt GTA SA for Android developers have approached very seriously. Even before the official release, the developers mentioned that the game will not be a member port, and a modified version of the game world. Serious work has been carried out over the graphical effects, the main scenario is preserved.
Although the graphical capabilities of Android-based devices are much smaller than the stationary platforms, the developers managed to achieve maximum detail graphical effects. In particular, a strong dynamic shadows from objects and characters, enriched color palette of the virtual world, improved visual representation of the automobiles and characters in GTA SA.
The official release of GTA San Andreas for Android was held on December 19, 2013. Despite the fact that on other gaming platforms, the game has been available for 9 years, GTA SA for Android enjoyed an impressive demand. His role was played by the ability to quickly download and install the game from the official Rockstar servers.
Mods on GTA San Andreas Android
Most mods that are published for the PC version of the game suitable for the mobile version of GTA San Andreas. But, you may need some revision mods. If during the game you encounter technical problems, please see related topic on our forum.