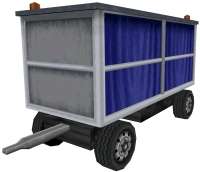 In GTA San Andreas among the other transport are tractors, to which you can attach trailers. In this section we present to you
trailer for GTA San Andreas.
All mods for San Andreas trailers can be automatically installed into the game. As you probably realized trailer doesn't go anywhere without a tractor, so choosing the mod trailer be sure to also install a mod of the tractor, of course, if you get bored with the standard one.
This section contains the following trailer for GTA San Andreas: