Welcome back to the 1980s, in Vice City! A decade of huge hair, dresses in pastel colours and music New Wave gave rise to the story. The story of one man who went all the way to the heights of the crime. Vice city is a huge city that has spread from the beach to the swamps and absorbed everything from glamorous gloss to the slums and ghettos. The result of the joint work of designers, modelers and programmers has become one of the most comprehensive and lively virtual cities ever created.
GTA Vice City
is one of the first 3D games that combines the open world with the ability of its study and narrative, which is conducted on behalf of the main character. You start the game fine bandit in a city filled and benefactor, and degradation, and you have the opportunity to take possession of all this wealth.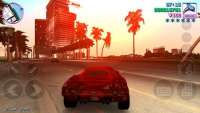 Rockstar Games has decided to celebrate its tenth anniversary in a special way, by porting our Grand Theft Auto: Vice City on phones and tablets, adding easy control and full HD graphics! The game was released for devices managed by Android and iOS, and is now available on Google Play Android Market and iTunes.
It is worth noting the most important innovations:
Remade in a new way graphics, character models and special effects
Advanced settings control, specially adapted for touch screens
A completely new system aiming and firing
Enormously big campaign! You will spend a lot of time in its passage
On our site you can download all mods on GTA San Andreas android and iOS. For each modification included detailed instructions, so installing mods on your phone or tablet will not cause any difficulties.