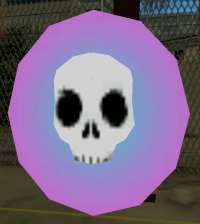 Rampage missions were in earlier versions of GTA too. In Vice City they have not undergone major changes. The city is scattered with 35 icons (see a pic), if you take which you start a mission Rampage. The purpose of the mission: kill a number of members of any criminal group with timelimit. Such missions have only four types:
1. kill the certain number of people of the issued weapons;
2. destroy the certain number of vehicles with issued weapons;
3. kill the certain number of people with the issued weapons, shooting from a vehicle;
4. to move over certain number of people with some vehicle.
Pleasant moment in mission - you have an endless number of ammo, but it's sad that you can't pick up anything out of killed (nor cartridges for other weapons nor money). Generally, these missions would probably be the most difficult in the game. But, as they say, it would be a blessing in disguise. Their passage does not cause much trouble if you take advantage of one of the biggest drawbacks of the game engine - lost (and appearance) objects behind. And so, shot down all that is in scope, turn back, turn back again, and targets are alive again

Below we will describe all 35 Rampage missions. Compliance is necessary to complete the game 100%. The exact location of the missions can learn from the map.
Rampage #1
Location: in the water on the island
Task: to destroy 10 vehicles in 2 minutes
Weapons: Rocket Launcher (Grenade Launcher)
Rampage #2
Location: on the walkway
Assignment: kill 30 people in 2 minutes
Weapons: A Molotov Cocktail
Rampage #3
Location: on the beach
Job: to move 30 people in 2 minutes
Weapon: -
Rampage #4
Location: on the roof of the building
Assignment: kill 25 people in 2 minutes
Weapon: .308 Sniper
Rampage #5
Location: between the fence and a palm tree
Assignment: kill 10 people in 2 minutes
Weapon: Katana
Rampage #6
Location: right side of the fence
Assignment: kill 20 people in 2 minutes
Weapons: Chainsaw
Rampage #7
Location: near the building
Assignment: kill 25 people in 2 minutes
Weapon: M4
Rampage #8
Location: on the roof of the building
Assignment: kill 25 people for 2 minutes
Weapons: Shotgun
Rampage #9
Location: behind a fence
Assignment: kill 25 people in 2 minutes
Weapon: MP
Rampage #10
Location: near the building from the beach
Assignment: kill 30 people in 2 minutes
Weapon: S.P.A.S. 12
Rampage #11
Location: behind the building, on the top ski jump in the pool
Assignment: kill 10 people in 2 minutes
Weapon: .308 Sniper
Rampage #12
Location: on the grass behind the ring road
Assignment: kill 35 people in 2 minutes, shooting from vehicle
Weapon: Uzi
Rampage #13
Location: bridge
Assignment: kill 20 people in 2 minutes
Weapons: Chainsaw
Rampage #14
Location: behind the house
Assignment: kill 25 people in 2 minutes
Weapon: .357
Rampage #15
Location: near the Eastern entrance to the North Point Mall
Assignment: kill 35 people in 2 minutes
Weapon: M4
Rampage #16
Location: on the second floor of the North Point Mall, inside with palm trees, flower beds
Assignment: kill 30 people in 2 minutes
Weapons: Rocket Launcher (Grenade Launcher)
Rampage #17
Location: the building
Assignment: kill 30 people in 2 minutes, shooting from vehicle
Weapon: Uzi
Rampage #18
Location: behind the sculpture
Assignment: kill 30 people in 2 minutes
Weapon: Minigun
Rampage #19
Location: on the steps of the building
Assignment: kill 40 people in 2 minutes
Weapons: A Molotov Cocktail
Rampage #20
Location: on the steps of the building
Assignment: kill 25 people in 2 minutes
Weapon: .357
Rampage #21
Location: in front of the bridge on the helipads
Assignment: kill 30 people in 2 minutes
Weapon: Flamethrower
Rampage #22
Location: the building
Assignment: kill 35 people in 2 minutes shooting from vehicle
Weapon: Uzi
Rampage #23
Location: on the corner of the building
Assignment: kill 30 people in 2 minutes
Weapon: M60
Rampage #24
Location: the building
Assignment: kill 35 people in 2 minutes
Weapon: S.P.A.S. 12
Rampage #25
Location: between the houses
Assignment: kill 30 people in 2 minutes
Weapon: Tec 9
Rampage #26
Location: on the basketball court
Assignment: kill 30 people in 2 minutes
Weapons: Shotgun
Rampage #27
Location: in courtyard
Assignment: kill 10 people in 2 minutes
Weapon: Katana
Rampage #28
Location: on the roof of the building
Assignment: kill 20 people in 2 minutes
Weapons: Sniper Rifle
Rampage #29
Location: on the roof of the building
Assignment: kill 20 people in 2 minutes
Weapon: Kruger
Rampage #30
Location: the building
Assignment: kill 35 people in 2 minutes
Weapon: Grenades
Rampage #31
Location: on the ship
Assignment: kill 15 vehicles in 2 minutes
Weapons: Rocket Launcher (Grenade Launcher)
Rampage #32
Location: in the airport building, on the ground floor near the back wall
Assignment: kill 25 people in 2 minutes
Weapon: S.P.A.S. 12
Rampage #33
Location: on the roof of the airport
Task: to destroy 12 vehicles in 2 minutes
Weapons: Rocket Launcher (Grenade Launcher)
Rampage #34
Location: East of military base
Assignment: kill 15 vehicles in 2 minutes
Weapon: Minigun
Rampage #35
Location: near the house
Task: to move 35 people in 2 minutes
Weapon: -
Author: serg