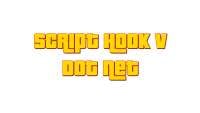 Script Hook V .NET
- this ASI plugin that allows you to run the game GTA 5 any .NET scripts (.dll), as well as scripts in C# (.cs) or language VisualBasic (.vb).
Any user who knows how to program in the above mentioned languages can write your script and use in the game.
Important:
Please note, if the requirements of fashion not specified the need for a plug-in Script Hook V .NET, it is not mandatory to install. For the script to work or fashion will be fairly standard
Script Hook V
.
Requirements:
Primarily for Script Hook V .NET you will need the following programs installed:
-
Script Hook V
;
-
Microsoft .NET Framework 4.5
(or higher);
-
Microsoft Visual C++ Redistributable Package for Visual Studio 2013 (x64)
.
Installation:
- copy all the contents of the archive into the game folder of GTA V (this is the directory where the file resides GTA5.exe).
Download:
-
Script Hook V .NET v1.1
-
Script Hook V .NET v0.5