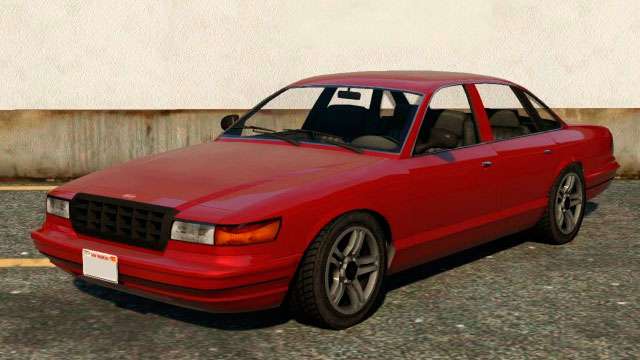 Stanier is four-passenger sedan, engineered by a non-existing fictional american company Vapid, which is known for manufacturing low-quality, but cheap cars.
For a fist time Stanier appeared in Grand Theft Auto 4 as a police cruiser, which was transferred to the fifth part as a civil model. However, in GTA 5 there is a so-called "second generation" of Vapid Stanier, which used exclusively by the police of Los Santos. Sedan is equipped with 4.6 litres straight-eight engine, and weight of the car is about 1800 kilometres.
Despite the infamy of Vapid, Strainer has excellent technical characteristics for a sedan. It's maximal speed is, according to official data, is 225 kilometres per hour, and a speed of 169 kilometres it achieves within 7.8 seconds. Thanks to rear-wheel drive, automobile handles turns perfectly and has quiet a good manoeuvrability. Vapid Strainer is capable of soaking a lot of damage to wheels, suspension, engine and anything else and remain functioning. Stanier of the second generation exists only as a police cruiser and all of it's characteristics are a bit higher than of the first. You can buy this excellent sedan for $10000.
Vapid Strainer of the first generation is based off Ford Crown Victoria of 1992-1997 years of production, and the second generation one is based off Ford Crown Victoria, produced from 1998 to 2011, Chevrolet Impala SS and also Chevrolet Caprice, produced from 1991 to 1996.
GTA 5 Vapid Stainer characteristics
| | |
| --- | --- |
| Speed | 140 km/h |
| Mass | 1800 kg |
| Capacity | 4 passangers |
| Engine | gasoline |
| Drive | rear |
| Brake force distribution | 42.5/57.5 |
| Damage in the collision | 70% |
| Damage during the deformation of the body | 70% |
| Damaging small arms | 100% |
| Damaging the engine | 150% |
| The purchase price in GTA Online | $10000 |
| The price of legal sale | $6000 |
| The illegal sale price | $1000 |