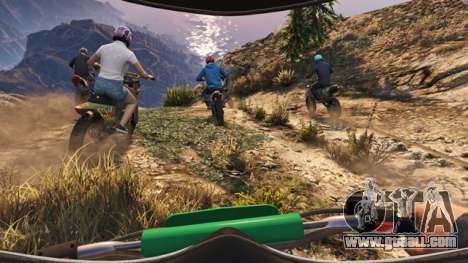 release GTA 5 for PS4, Xbox One players have accumulated a lot of questions. Consider some of these in more detail.
"Now you make games only game mode in the first person? I always loved Rockstar Games because of commitment to the game mode from a third party." (Allen)
No. The game mode from a third party will remain the main. The game mode from the first person will be used only for the empowerment of users. This will allow them to make the choice yourself.
"could you add a game mode from the first person in the ports of GTA 5 for PS3 and Xbox 360?" (Brandon)
"Why is the game mode from the first person is supported only for the consoles of the last generation? Maybe we should add it to other gaming platforms?" (DawsonSunderlan)
To implement a game mode from the first person there have been significant changes in the visual component of the game world. These changes may be made only in port for the consoles of the last generation because of their high computational capabilities. To add a new mode in GTA 5 for PS3 and Xbox 360 is technically difficult and not possible without detriment to the gameplay.
"what's the point Shark Cards, in addition to making money?" (Tim)
During the development of the new port of GTA 5 for the convenience of users, introduced a new kind of in-game currency. It allows to distribute DLC after new content updates. Thanks Shark Cards had the opportunity to give players a part of the DLC for free to try out new possibilities.
"When will be announced the official release date #GTAOnline Heist?" (iCrazyTeddy)
"Why Heists such long?" (Donny)
The exact release date is still unknown. Most likely the release will be in early 2015. Heists were more difficult to implement than was assumed until recently. Earlier versions are not good enough and need further development. Performing the necessary work is nearing completion. While the players can find new screenshots.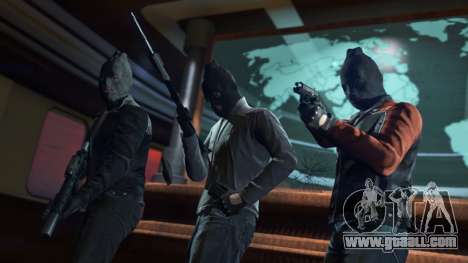 Honed team strategy and coordination of actions will be needed to achieve these ambitious goals.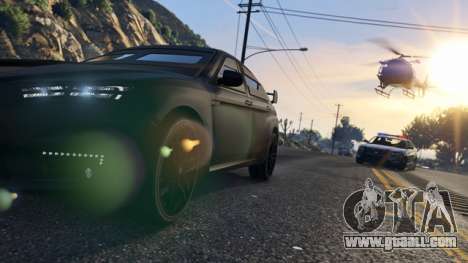 There will be new vehicles, including Karin Kuruma.
"Heists will be available only on port GTA 5 for PS4 and Xbox One?" (IG: dodger blue ant)
No. New opportunities will also be supported on game consoles PlayStation 3, Xbox 360 and PC.
"With the release of the new port of GTA 5 will suspended updates for the consoles of previous generations?" (BlackWolf468)
Update ports GTA5 for platforms of the past generation will go as long as it is possible from a technical point of view. Separate updates that can be implemented only for PS4, Xbox One and PC, will not work on earlier versions of game consoles. It is still associated with the computational power of technology.
"Will be added snow to the game this year? Last time I missed this event." (zaetayo)
"Do you plan to activate the Xmas theme for GTA 5 again?" (Ryan Heda)
Such information is usually kept secret. However, we know that there are a few seasonal surprises, which you will be able to enjoy users in all four games consoles.
"Really casino and hard earned money GTA $ part will not be available?"
"Among domestic games I would like to see Texas holdem, Blackjack. Will they be added?" (Scott)
There is a huge list of planned updates that are created based on the wishes of the players in GTA Online. Users only need to send their wishes to the developers. The most interesting and popular suggestions will be implemented.
"Can the owner of a PS4 to play GTA Online with the PS3 user?" (IG: evil gamer505)
This feature cannot be implemented for technical reasons.
"#GTA 5 reloaded. How to be a reboot #RDR&?" (SlyFoxC)
"If you continue to improve GTA, why not continue working on Red Dead Redemption?" (Austin Lawson32)
It is remarkable that the players show great attention to RDR, since the release of which was held 5 years. It is only a matter of time.
"will I be Able to transfer game progress port from Xbox 360 to PC? I would not like to start from the beginning" (Luuk)
"Read that's progress can be transferred only once. Does this mean that if I will take progress with ports for PS3 on the PS4, then I can't transfer it to port to PC?" (Tommy)
Don't worry, 's progress with consoles PS3, PS4, Xbox 360, Xbox One, you can freely transfer to PC. If one transfer to one of the four platforms had already taken place, the player will still have the opportunity to make a Shuttle PC.
"I would Like to know how things with the development of GTA 5 for PC" (Alli)
The development of a new port is at the final stage. Official information about system requirements and other information will soon appear in the newscasts.