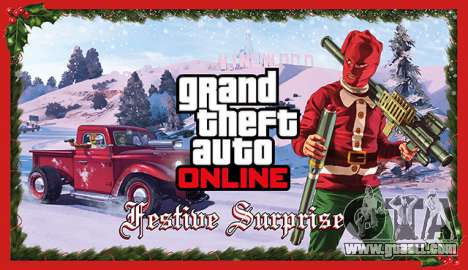 Team Rockstar prepared for players in GTA Online Christmas surprise.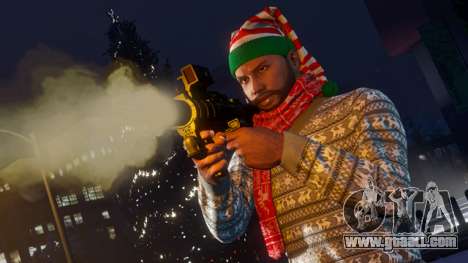 New weapons
Store Ammu-Nation appeared new weapons - rocket launcher with homing and Proximity Mines. They will be available for purchase throughout the festive period.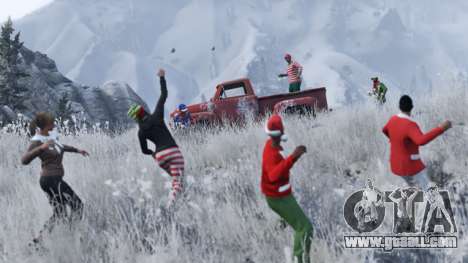 Weather
At Christmas we all dream about the miracle. It happens in the vast San Andreas. During the festive period you will observe extraordinary rare event in GTA Online snow. Players will be able to organize friendly matches on snow battle without harming each other. However, significant damage can cause ice icicles that will be in the hands of the opponents.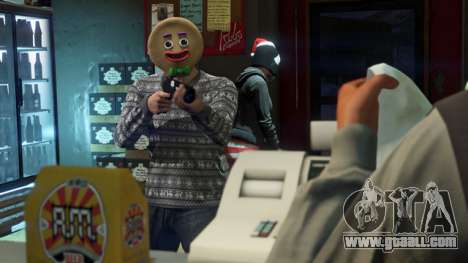 clothes
With a new collection of festive clothes can be fun to glory. Will be added pajamas, funny Christmas sweaters, scarves, masks and much more.
New cars
Players will be available 4 new car - chic Hot Rod Cristmas Ratloader, Slam Vam and speed Massacro, Jester. Machines will be available for purchase and preservation.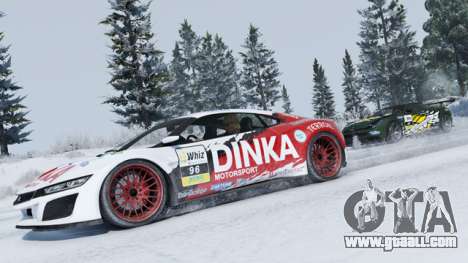 Surprises from the sky
In the holiday period in
GTA Online
from the sky will throw a special crates (Crate Drops) with unique gifts. In them, players will be able to find additional bonuses and exclusive gifts that could be missed during the year.
Christmas gifts
December 25, during a vacation in Los Santos in his apartment, don't forget to check out the gifts under the tree. A pleasant surprise will be more Christmas inventory.
new year fireworks
No New year is complete without a birthday fireworks. For purchase will be available special rocket launcher ammunition and new year. One set you can win and get a free one of four holidays - Christmas eve, Christmas, New year, first day of the New year.
the Competition Snapmatic #FESTIVESURPRISE
Create a unique photo of your own team, screenshot colorful Christmas or other event and publish it marked #Festivesurprise. The most interesting, amazing and extraordinary work will be selected by the editors of Rockstar for awarding prizes to their authors. There will be 5 winners. Each of them will receive GTA $ 1M.
All of the above holiday update is available on the ports of PS3 games, PS4, Xbox 360 and Xbox One. Stay tuned during the Christmas holidays.