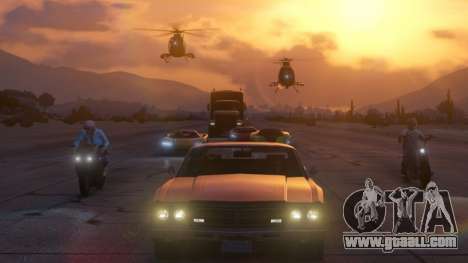 Specifically for players in GTA Online added a new feature - the transition to the recommended playlist (Rockstar Created Featured Playlist) by pressing one button. This option is available on all supported games consoles. Additionally, the interface of the game for the PS4 is set to run the playlist directly from the main menu.
Featured playlist constantly support up to date. One goal is to make the transmission time players as interesting.
As an additional promotion on January 5, 2015 in a separate playlists are increased reward - double RP and GTA $. This playlist will include racing competitions, deadly duels, mission to capture valuable objects and team battles.
In racing missions players will be pleasantly surprised festive surprises - new cars. Along with this, the Xbox One and PS4 will have access to the 4 missions of the new format with support for up to 30 players.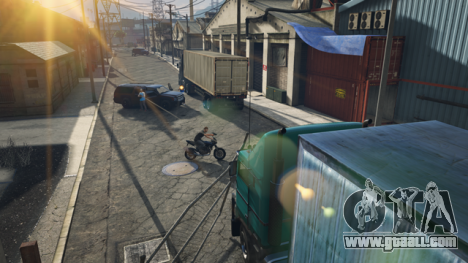 Recommended playlist for PS4, Xbox One
First Base.
Troops mobilized players in Los Santos and Fort Zancudo ready. 30 armed heroes take to the air and thirsting for the blood of each other.
On the GOH.
Amazingly beautiful countryside may distract the attention of drivers on the route through the Great Ocean Highway and Banham canyon. You need to concentrate on the road. The stretch of asphalt is not wide and all participants, it will not accommodate, will be affected.
Fridgit Factory LTS.
Turns the classic confrontation in the spirit of the LTS. The place of action - the manufacturing sector La Mesa. One of the teams will have to take complete control points that will be not so easy as it seems initially. Competitive advantage given to players that manage to occupy a favorable position on the roofs.
GTA: Grass is Greener.
Urgent problems in rural areas are transformed into bloodthirsty opposition. One team is given the task to carry 4 tons of plants from the farm Braddock, the second is to go to intercept and perform the task.
Recommended playlist for the Xbox 360, PS3
Vespucci Shoreline
. The location - the beach Vespucci, the cause of discord players - medical marijuana. For showdown in Deathmatch provided a vast territory.
Hit the Apex.
Recently tested Speedway allows to identify the best racer on the roads in the Central part of Los Santos.
Paleto Bay - Tank LTS.
the Two teams have to plunge into the war. The streets go heavy tanks, armed groups are actively using explosives. It is likely that the entire city to fall into ruins.
Contend: Townhall Trinity.
Fight for 3 valuable object in Rockford Hills is in full swing. You should by any means to capture them and deliver on a friendly base.