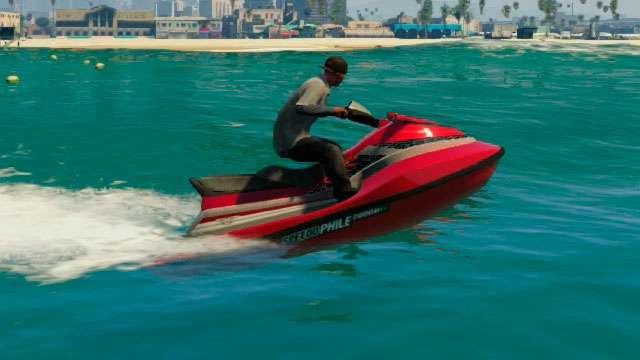 Seashark is two-passenger dual seat civilian personal water craft (aka water scooter), manufactured by a fictional in-game company Speedophile (the company has no real-life prototype).
Though water scooters were already in the games of Grand Theft Auto series, like Jetski from GTA: Vice City Stories and Wet Ski from GTA: Chinatown Wars, this exact model, Seashark, made it's appearance only in the fifth part of GTA series. It is main distinctive feature which differs it from other models is that is has two-passenger capacity. Speedophile Seashark is represented in two variants. First, the default one, is dominated by a yellow paintjob, with occasional lines black lines and some sparse gray areas. The second one belongs to Los Santos Lifeguard, and it has mostly red, black and white paintjob. There is no difference other than painting between those variants.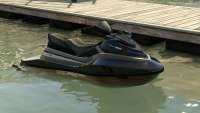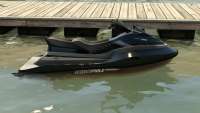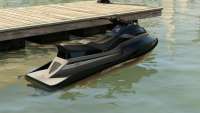 Speedophile Seashark is one of the fastest water crafts in the game, it falls behind only before Shitzu Jetmax and Pegassi Speeder, and also it is behind most of other boats in means of acceleration, though it is barely noticable in-game. Thanks to it's small proportions and light weight of 400 kilograms, Speedophile Seashark is by far the most manoeuvrable watercraft so far, as it can make rather rough and jerky turns with no problem and perform all kinds of choreographic wonders. However, be careful with angle of lean, as just a single mistake can be fatal. Speedophile Seashark can be bought for just a $17000 on site ducktease.com. You also find Seashar in such places as Del Perro Pier, north to Palmer-Taylor Power station, in docks of Vinewood lake and in Wihite Water Activity Center.
As the part of the "Executives and other criminals" update the game has been received nwe yacht variant of Speedophile Seashark. It has no differencies in perfomance but has a slightly modified appearance and it's own model.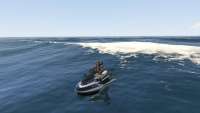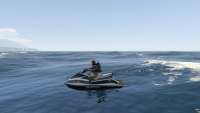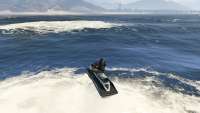 It is hard to point out any actual model which could be Seashark's prototype, however Yamaha WaveRunners VX Cruiser looks quiet similar.
GTA 5 Speedophile Seashark characteristics
| | |
| --- | --- |
| Speed | 130 km/h |
| Mass | 400 kg |
| Capacity | 2 passangers |
| Engine | gasoline |
| Damage in the collision | 100% |
| Damage during the deformation of the body | 10% |
| Damaging small arms | 100% |
| Damaging the engine | 150% |
| The purchase price in GTA Online | $16899 |
| The price of legal sale | — |
| The illegal sale price | — |