Shitzu Defiler - sport motorcycle, designed and produced by the employees of a fictional, non-existent in the real world a Japanese company Shitzu, added to GTA Online as part of the update Bikers.
Rockstar was inspired by this motorcycle manufacturers as Suzuki, Honda and Kawasaki, and it so happened that the company name is a play on words with the Chinese breed of dog "Shih Tzu" and the famous English word "shit", that can be seen on the logo.
This vehicle never appeared in any of the previous installments of the game series Grand Theft Auto. Shitzu Defiler appeared in GTA Online only with the release of "Bikers", where among other interesting things were presented and this bike. The prototype the developers have chosen a real Suzuki Bandit 1200 Streetfighter. Also the bike has some features from Akuma, namely, the front fairing has two small round headlights and a very small backseat for the driver. The similarity ends and it is safe to say that it turned out quite original.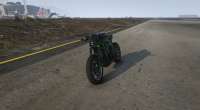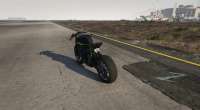 Due to its speed and handling, the Defiler can compete with Akuma and Hakuchou, having a great angle of rotation for the passage of sharp turns or through city traffic with relative ease.
Characteristics Shitzu Defiler from GTA 5
| | |
| --- | --- |
| Speed | 92 mph (148 km/h) |
| Weight | 200 kg |
| Capacity | 1 passenger |
| Engine | 3-cylinder |
| Brake force distribution | - |
| Damage in the collision | - |
| Damage during the deformation of the body | - |
| Damaging small arms | - |
| Damaging the engine | - |
| The purchase price in GTA Online | $412,000 |
| The price of legal sale | - |
| The price of illegal sale | - |