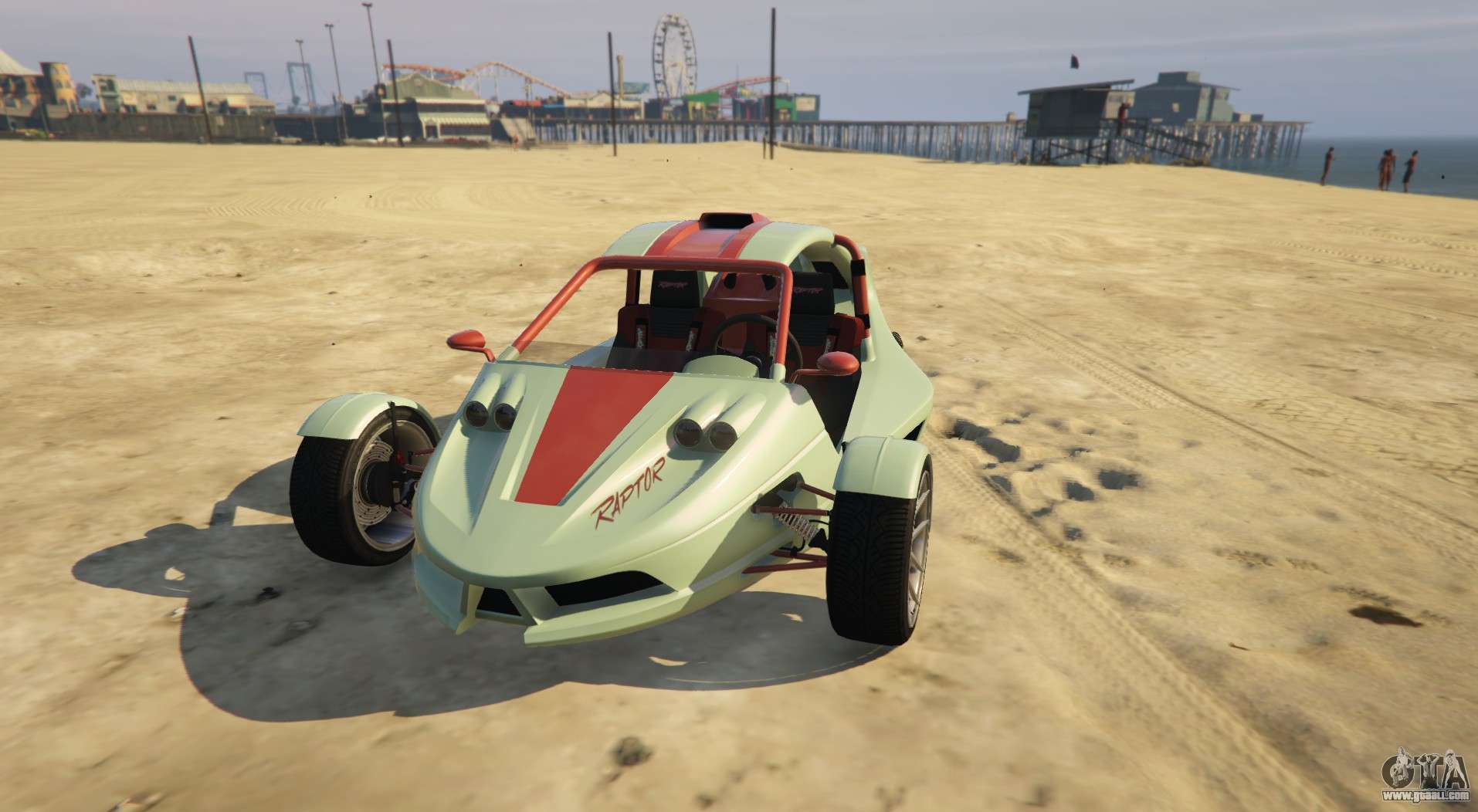 Raptor is roadster trike designed and manufactured by the fictional company Bürgerfahrzeug (abbreviated BF), a parody the German company Volkswagen. Added to GTA Online as part of the update Bikers.
This transport quite compact, even smaller than the Bifta. The prototype is existing in real life trike Campagna T-Rex 16S. On the hood are small dual round headlights cylindrical shape and rear lights above the license plate in the back. The word "Raptor" is located on the right side of the hood as the "T-Rex" and in the cabin on the passenger side, right from the dashboard. Two large exhaust pipe work near the rear wheel. The interior is equipped with racing seats and two analogue dial with a digital speedometer in the center, and also is not characteristic for a trike handlebar. The suspension attaches to the rear axle. The Raptor's bodywork is not deformed when damaged. If you want to change rims, you will be able to do it at Los Santos Custom, but only on the front wheels.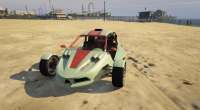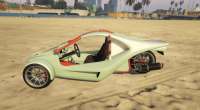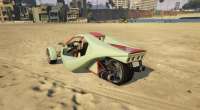 As expected from a transport the sports class, the Raptor performs well. It isn't typical for this class, but trike is very fast and sharp in control. One rear wheel not a problem for turning, transport remain absolutely stable. The Raptor is equipped with a six-cylinder engine and, of course, six exhaust pipes. They are connected by three in the one and go from the engine bay. This can be seen by turning the transport. This form of the bodywork and the absence of the other rear wheel Raptor makes lighter, than the vast majority of the cars, including the Panto and
X80 proto
.
Characteristics Bürgerfahrzeug Raptor from GTA 5
| | |
| --- | --- |
| Speed | 87 mph (140 km/h) |
| Weight | 500 kg |
| Capacity | 2 passengers |
| Engine | six-cylinder engine |
| Brake force distribution | - |
| Damage in the collision | - |
| Damage during the deformation of the body | - |
| Damaging small arms | - |
| Damaging the engine | - |
| The purchase price in GTA Online | $648,000 |
| The price of legal sale | - |
| The price of illegal sale | - |