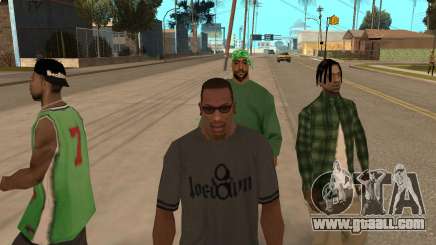 The range of opportunities in GTA San Andreas has significantly expanded in comparison with the previous parts of the series of this franchise. The main character can now do a variety of different things, such as a pumping his own body or a training martial arts.
One of the most interesting innovations in the game is the war of gangs. Coming to his native street Grove Street, the main character understands that during his absence much has changed. A gang from his street has lost the most part of its influence in the city, and the only way to fix it for Carl is to gain the respect among his ex-friends and to occupy the territory of the enemy gangs.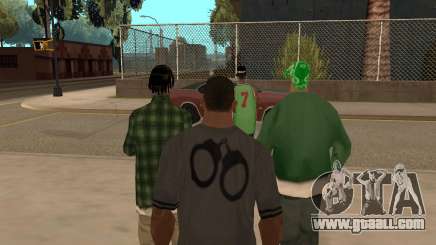 But it is still easier to do this not alone, but with loyal comrades. How to make so that to bring together the company of brave guys who will fight shoulder to shoulder? Everything is easier than it may seem, just follow this order of actions:
Pass the mission "Los Sepulcros"
Find a member of the Grove Street Family gang (they are dressed in the color of the gang - green)
Point the sight at it and press the G button (default)
The number of mercenaries depends on your reputation, and more specifically on the column "Respect". The growth of reputation occurs with the passage of missions, killing members of the enemy gang and the occupation of their territories. The more respect, the bigger the gang, from two to seven. You can also use cheat codes, but it is unfair and not so interesting.