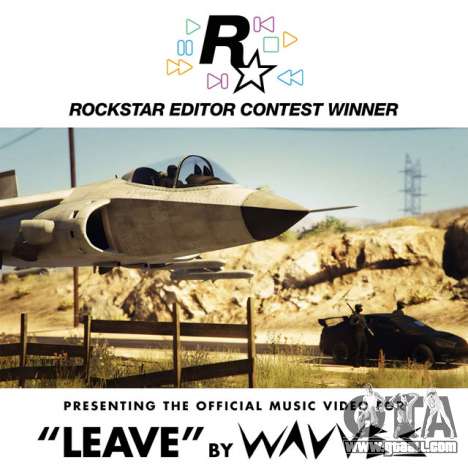 As you probably know, Rockstar Games not so long ago (may 12th, to be exact) announced a music video made in GTA 5 using the Rockstar Editor, for the song "Leave" is a surf-rock band Wavves. After careful selection, the winners have finally been chosen! First place is a Social Club user from Germany with nick YeahMAP. The lucky winner received a professional gaming keyboard G910 Orion Spark Gaming Keyboard and the same G510 mouse Proteus Core Gaming Mouse, which, by laser printing, applied personal Social Club ID and the Rockstar Games logo. Also, YeahMAP receives exclusive in-game items for GTA 5 and gift card $100 for Rockstar Warehouse.
Winner.
Leave - Wavves from YeahMAP.
Carefully gathered together the furious action with the jewelry camera work, the winner, in his video that told the story of a gang, visualase their leader from the prison.
And now attention to the other two winners, each of which received exclusive items for GTA 5 gift card and $100 for Rockstar Warehouse.
Leave - Wavves, Bon Voyage from Dorian92.
This, surprisingly tastefully done, video, Trevor Phillips aimlessly travels the roads of Los Santos, walks past the homeless, a local small-time gangsters, and his urban landscapes of the city, until he reaches the shop 24/7, which, quite in his style, decides to Rob. After that, the hero of the video has to break through the police away from the city.
GTA 5 - You Can (Not) Leave from Vergessene
Inspired, apparently, the movie "Nikita" and "Kill Bill", Vergessene created a short story about a girl-soldier, sweeping all in its path unknown to the target audience. Very beautiful and stylish video that perfectly fits the music of the band Wavves.
The confessions of developers, they were so overwhelmed and surprised by the huge flow of work and ingenuity GTA 5 PC community that they are looking forward to new creative exploits its audience in future contests. And they, contests, should be very soon, so don't forget to check out our newsletter. In the meantime, here are a few awarded by the jury, but had not reached the final:
LEAVE - Wavvews Music Video from AmillzSlusho
This is a short story about three ordinary citizens of Los Santos, which share very similar tragic circumstances, and decide to find an easy way out of a hopeless situation. Nice clip, with a very unexpected ending.
Leave - Wavves (GTA 5 Music Video) from shorty2001
Sadly reminiscing about the bright days of yore, beggar man wanders through the city, trying to come to terms with the ruthless life of a homeless drifter in Los Santos. After the portions are quite harsh criticism from all the iconic characters of GTA 5, he decides to flee the city, or rather not to run, and... well watch the video to see for yourself.