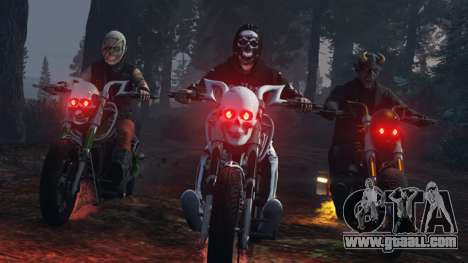 Instill fear in those who are blocking your way into GTA Online this Halloween with a motorcycle LCC Sanctus, and restore the balance of the universe in a new confrontation mode "Lost vs Damned", and enjoy a host of exciting bonuses and other delicacies.
NEW VEHICLE: LCC SANCTUS MOTORCYCLE
The true spirit of Halloween, riding on wheels, designed to intimidate opponents. Distinctive and deadly glowing red eyes Sanctus express evil and unholy.
NEW LOST VS DAMNED ADVERSARY MODE
The new adversary mode "Lost vs Dawned" is often told the story of a righteous fight against vulgarity, this time facing the Angels against the Devils in the final battle of souls. Each match will switch between day and night for 60 seconds with the advantages of: health regeneration and armor, improved versions of weapons, depending on the time - day and night for the Angels Devils. Points are awarded for the murder at the time, when your team is strong. Take advantage of this. This is the difference between life and death.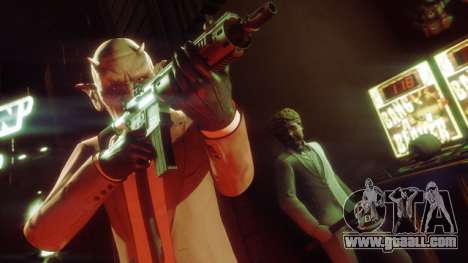 To help you dive right into the depths of this new adversary mode, you will be available a double bonus and $ RP in the "Lost vs Dawned" today and until 7 November. Fight for the good (or evil), receiving awards and earned a reputation.
UNLOCKABLE IN-GAME T-SHIRTS
If you are looking for a new theme costume, you can get "Twilight Knife" and "Butcher" and other shirts. Just login in GTA Online until Monday November 7 to
unlock your free t-shirt.
And if you add to your collection Sanctus now until Monday 7 November, you can also unlock the "Cheerleader Massacre" 3 T-shirt - the perfect, bloody Halloween accessory for any wardrobe.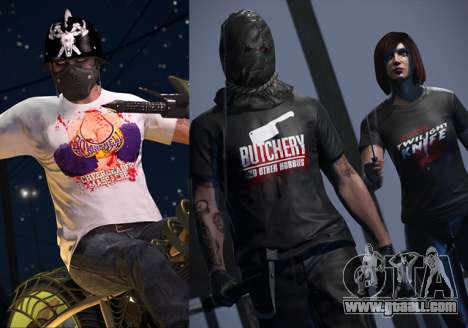 DOUBLE GTA $ & RP IN SLASHER, BEAST VS SLASHER & COME OUT TO PLAY MODES
On Halloween, immerse yourself in a special double GTA $ & RP Playlist characterizing the classic horror mode "Slasher", "Beast vs Slasher" and "Out to Play". Available on Monday, October 31 just click on the boot screen GTA V launch, to take part in the mischief and mayhem.
ALSO...
In addition to the above, do not miss the opportunity to ride on a Lurcher Hearse and Fränken Stange, as well as take advantage of scary masks, make-up, figures and signals. All this you can add to your collection until 15 November.
The honor will be available, we offer a discount of 30% GTA Online triennium until November 7 on certain modes of transport, weapons and more, bonus stunt racing. Click here to see the full list of offers and bonuses.