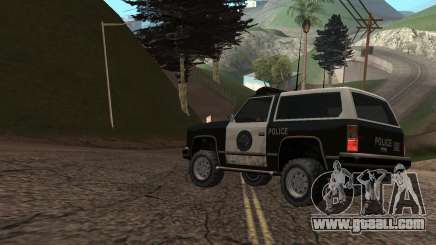 Nowadays there are two variants how you can get a job in police in the GTA San Andreas and now we will analyze them. First variant offers to download special modification or script, which adds to gameplay a lot of interesting functions. After you have download it, played gets police uniform and weapon with required quantity of bullets. And also you get an opportunity to choose type of the automobile: passenger car, SWAT or BTR.
Opportunity to become a police officer without installing a modification
Second variant of beginning responsible life and every day step up to the patrol consumes more time. To play in a role of the valiant policeman in the GTA San Andreas you will need to complete mission "Police". But it is not so easy to do.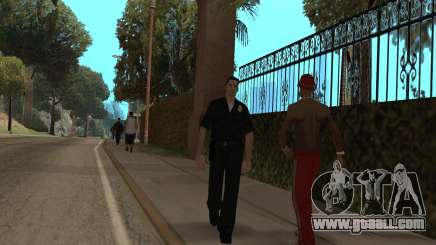 At the very beginning you will need to become friends with the secretary of the sheriff of any city Barbara Shtengwart. If he process of seduction is successful, you will get a uniform and opportunity to ride on her service jeep. Your further actions:
Kill first caught on eye police officer and take the truncheon from him.
Began to complete mission "Police"
Bring the case to the end, do not shoot at civilians and try to survive and not be arrested.
This method doesn't allow to serve a real term on post, but it gives an opportunity to join to the authority. You can use the position, but it is better not to abuse it, because the stars of the violation of order are awarded to the player even when he is in the uniform. Not to end up behind the lattice, it is better not to fall into serious scrapes and prevent small violations.