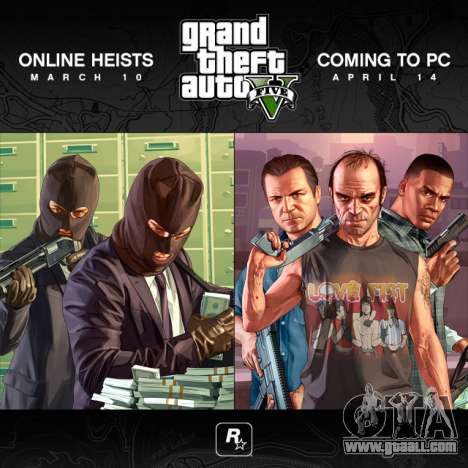 Became known to new release date
GTA 5 PC
and update Online Heists. Published colorful screenshots, which allow us to estimate the intriguing story and new features of the coming changes in the GTA. A brief look at upcoming events.
Online Heists
Start update GTA Online Heist is planned for March 10, 2015. The expectation of the players were long, the work of the developers is extensive, and the result should meet the expectations of the gaming community.
With the update, players will become available a new cooperative game mode for 4 people. He will join a small team to carry out active raids, organize robberies across Los Santos and Blaine County.
In the near future receipt of more detailed information on this update.
the Release of GTA 5 for PC
Earlier it was planned that
GTA 5 for PC
appears on 24 March 2015. However, the game had to be postponed, due to the need to conduct separate tests. In particular, it was necessary to ensure that Heists GTA and GTA Online will be properly run in one day in an updated port of the game.
The new release date of GTA 5 for PC - April 14, 2015. The game will be available for purchase in retail outlets and online stores in electronic format. As a thank you for understanding the situation of each player who placed a pre-order will be charged 200 thousand $ to spend in GTA Online.
After you may need the help and understanding on the part of the players. Upon detection of defects can be written in the center of the support Rockstar Games. Employees of the company will closely monitor developments and make adjustments if necessary.
Today GTA 5 for PC is one of the most technically and graphically advanced editions in the series Grand Theft Auto. It is optimized for a wide range of Assembly of personal computers and includes many improvements. In particular, users will receive high levels of detail for virtual environments and advanced functionality. "Creators" will be able to use the upgraded editor for recording, production and editing of copyrighted videos.
On the eve of the release of patch Heists for GTA 5 on the PC, published new screenshots. They will help partially to appreciate the beauty of the game world and the depth of the authors.