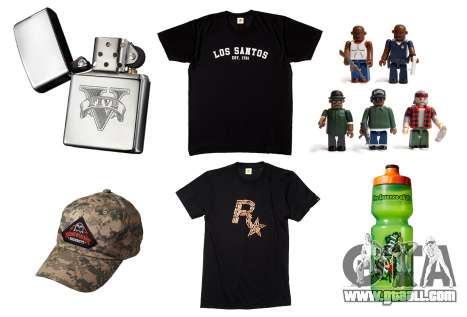 Black Friday from Rockstar. Today is the last day of discounts in the store Warehouse. Discounts on all products related to the games from developers. Hurry, quantity and time discounts are limited.
Hurry up to go to the Rockstar Warehouse to honor the sale of "Black Friday" and use a 30% discount on products throughout the store (excluding pre-order Red Dead Redemption 2). For example, you can look at a collection of Grand Theft Auto, which includes the popular Sprunk water bottle, the Zippo lighter and the album "Welcome to Los Santos" recorded by performers Alchemist and Oh No(available on CD, vinyl or mp3), posters, t-shirts, sweatshirts and caps with the logo of Rockstar, GTA and in-game companies. And also plush dog "Chop" and loved by fans set Cubic figures of San Andreas. It includes: Carl "CJ" Johnson, officer Tenpenny, best friends Melvin "Big Smoke" Harris and lance "Ryder" Wilson, and Truth. And that's just the GTA collection. The store also contains goods from other series of games from Rockstar, such as Max Payne and L. A. Noire.
Annual sale Black Friday kicked off on Friday 25 November at 12:01 a.m. Eastern time and ends at at 11:59 p.m. Monday November 28. The offer is valid only on
www.rockstarwarehouse.com
.