If you missed reckless racing and want to feel again the adrenaline in his blood, that Rockstar is preparing a great news for you - the prize at stake for winning them is greatly increased! In addition you will have a great opportunity to add to your racing fleet with a decent discount to 40%. Increased rewards for racing modes and new transport discounts are waiting for you.
Triple payments for the Hotring Circuit
Not afraid to die in a car crash hurtling toward death in a mad race car? Ready to put everything at stake just to win more money? Then this news is for you, because you will be able to throw in a crazy race on the Track Hotring and earn really big money for the victory. Of course, if you stay alive.
Triple the reward for victory in the race for Issi Classic and RC Bandito
If you do not want to risk your life, it is possible to use the cars on the radio. These small copies are much safer, but the reward for victory in these races also increased. Additionally, the developers have not forgotten about autoclassic. To ride at full speed on the classic Issi is now also very profitable, if you manage to reach the finish line first.
Double payouts for stunt racing and time trials
For true connoisseurs of extreme sports there is a special offer in which all, without exception, players of GTA Online, you receive the opportunity to complete any of the stunt racing and get a double fee. The same goes for the time trials. So you will have the opportunity to have some fun.
Free sweatshirt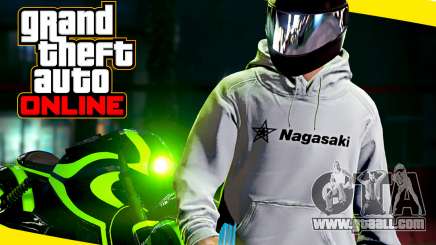 But for fashionistas and fans of sports style, the developers of GTA Online has a special surprise. If you log into the game until July 3 any day, get a gift, completely free, stylish white sweatshirt with the logo of Nagasaki.
Discount transport to 40%
For fans of freebies and promotions also have great news - you can purchase your favourite car at a super low price.
Progen T20 – 30% discount
Truffade Nero – 30% discount
Ocelot XA-21 – 30% discount
Progen Tyrus – 30% discount
RC Bandito – 30% discount
Coloring pages – 30% discount
Dinka Jester Classic – 35% discount
Itali GTO Grotti – 35% discount
Declasse Sabre Hotring – 35% discount
Vapid Flash GT – 35% discount
Drift Declasse Tampa – a 35% discount
Hijak Ruston – 35% discount
Weeny Issi Classic – 40% off
Nagasaki Shotaro – 40% off (play one round of "deadline" to open this motorcycle)
Western Motorcycle Company Gargoyle – 40% off
Nagasaki Chimera – 40% off