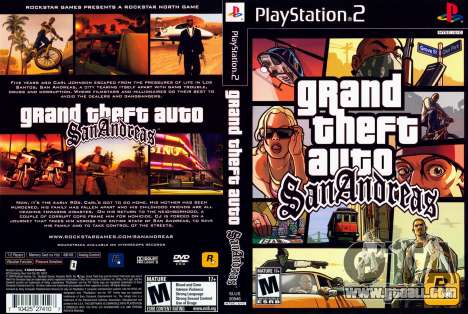 26.10.2013 was 9 years since the publication of GTA San Andreas Play Station 2
Nine years ago, on 26 October 2004 on the shelves in the US are now available GTA San Andreas game console Play Station 2. Announcement of the game took place two months earlier - 20 August 2004.
Grand Theft Auto: San Andreas (GTA: San Andreas, GTA: SA) is a computer game Grand Theft Auto in the genre of Action, developed by Rockstar North. This is the third 3D game in the series and the fifth in the line of major projects. For PlayStation 2 console the game was released on October 26, 2004 in North America and 29 October 2004 in Europe and Australia.
Nine years passed, but
GTA San Andreas
firmly takes the first place on popularity among the entire line of games GTA series. The runaway success of GTA San Andreas, of course connected with the possibility of modifications to the game. The number one global mods hundreds count the same individual fashion is not possible.
Let us today in honor of the Birth of the cult game remember your first impressions from the gameplay, plot, a huge game world and the impressive capabilities of GTA San Andreas, that each of you felt when you first start this Action and to share them in the comments below.
Happy Birthday
Grand Theft Auto: San Andreas
!