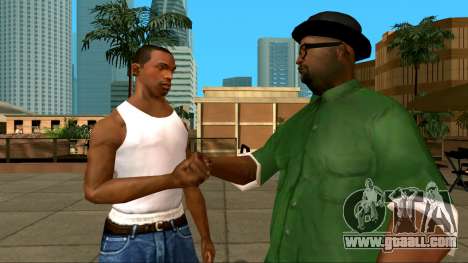 Release of Grand Theft Auto San Andreas on Android
Yesterday, the nineteenth of December, GTA San Andreas for Android became available in Google Play. As with the previous game in the series, GTA Vice City, release on Android occurred one week later than on iOS. The price of the game is 6.99 $.
Grand Theft Auto: San Andreas features:
• Remastered, high-resolution graphics built specifically for mobile including lighting enhancements, an enriched color palette and improved character models.
• Cloud save support for playing across all your mobile devices for Rockstar Social Club Members.
• Dual analog stick controls for full camera and movement control.
• Three different control schemes and customizable controls with contextual options to display buttons only when you need them.
• Compatible with the MoGa Wireless Game Controllers and select Bluetooth and USB gamepads.
• Integrated with Immersion tactile effects.
• Tailor your visual experience with adjustable graphic settings.
However, something is rotten in the state of Denmark - users identified the problem of departures, which does not allow to properly run the game. The day has already published 2 updates, but it helped not to everyone. Connected with this is such a low rating of GTA San Andreas on Google Play - only 1.9 out of 5, that, considering how many people just love San Andreas in principle, no matter in what form and on what platform, says that the port on the Android version has really serious technical problems.
More information about GTA San Andreas for Android:
Size: 2.4 Gb
Requires Android 3.0 and up
Download
GTA San Andreas for Android
Some screenshots to cheer up: