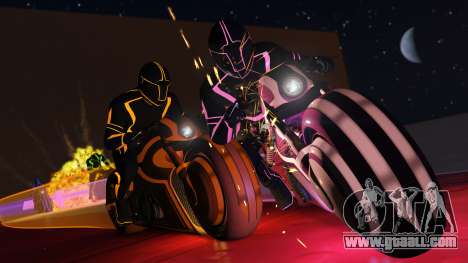 A new update for GTA Online will make the streets of Los Santos in a stylish e-battle. In the new Adversary mode "Deadline" you will be able to accelerate to Hyper speed on a futuristic Nagasaki Shotaro and destroy the enemies with a light trail. Watch the trailer of this mode and read more about new materials, including on the special bonuses that will be available in GTA Online from today until 21 November.
NEW VEHICLE: NAGASAKI SHOTARO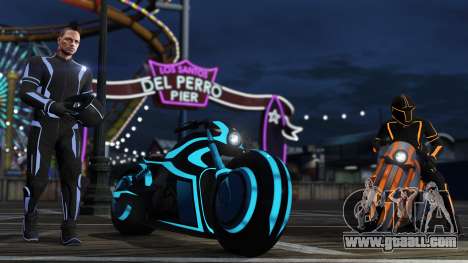 Illuminate the night with an incredibly fast
Nagasaki Shotaro
! It is built engine that can energize a network of Los Santos and it looks like a concept prototype from the fashion auto show. The first time you try on taste Shotaro in the new Adversary mode "Deadline", it will be available at Legendary Motorsport. Costumes "deadline" can be purchased in any clothing store. For a limited time, in the wardrobe all the proud owners Shotaro appears t-shirt with the logo of Nagasaki, which will be available for purchase.
DEADLINE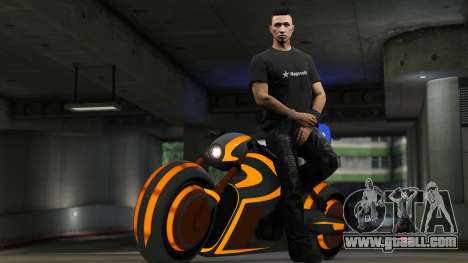 In the "deadline" can have up to four players, each mounted on Shotaro different colors and emits a temporary light trail, when you drive to the arena. If the enemy, which was unfortunate to get in contact with the trace, followed by an explosion. Count your movement so that the enemy crossed your trail. Use strategic advantages: "acceleration" for block before its next opponent, "slow" allows you to choose the best route, until time passes, or to avoid the enemy's track "jump". Participation in this mode until the 21st of November will bring you double $ and RP.
New clothes and bonuses
Experience the sense of pride after purchasing your new vehicle? Show the brilliance of his new t-shirt with the logo of Nagasaki, which goes to everyone who bought Nagasaki Shotaro.
In addition to the bonus in the "Deadline", get a bonus for your Biker Business in the form of a discount of 25% on the supply and provision of reserves. Plus, you'll get 50% more $ and RP for the sale of goods. As well as until 21 November will get discounts on some weapons and transport.
Properties
Vehicles
Karin Technical -25%(without the need to pass the Heist)
Savage -25%(without the need to pass the Heist)
MTL Brickade -50%
Weaponry
Ammo -25%
Throwables and explosives -25%
Body armor -25%
Drum and box magazines -25%
Premium race: "Over the bridge"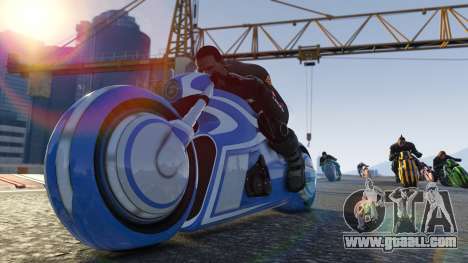 Wear a costume and race through the highways of La Puerta and Los Santos docklands in the race "Over the bridge"(only for bikes). As always, triple RP bonus to all participants and the top three finalists of the generous prizes.